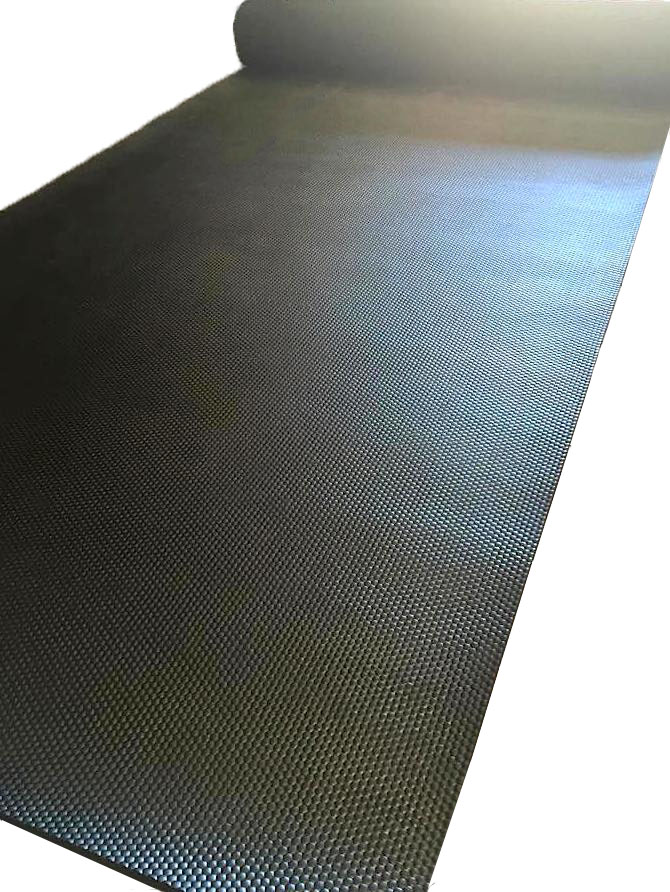 Horse Float/Livestock Transport Jumbo Matting is specially designed for maximum comfort, and reduction of stress and joint fatigue during transportation.
No More Joints – CDJ Jumbo Matting is designed as one continuous mat without joints. It is easy to install, cut to required size, and seal the edges.
Our Jumbo Matting is manufactured using high quality natural and synthetic rubber, combined with premium quality raw materials that enable these mats to withstand rough conditions. Our moulded matting is heavy duty and high strength. The tortoise shell pattern on the top surface is specially designed to include maximum anti-slip properties, as well as high traction, which enables  injury prevention during transportation. The bottom side has a cloth finish, giving high adhesion to the float floor. Our matting is fully vulcanized and sealed, and therefore is totally non-absorbent of moisture or animal urine, and is resistant to bacteria or mould growth. The materials used in this rubber compound are specially selected and designed by CDJ Rubber Products to withstand harsh environmental conditions. Our matting is resistant to detergents and any alkaline solutions, and therefore can be washed regularly.
We are committed to quality – we use only virgin polymers, and so do not use recycled rubber, rubber dust or rubber crumbs
| Application | Features | Benefits |
| --- | --- | --- |
| Horse floats | Heavy duty | Reduces injury during transportation |
| Livestock transport | High strength | Maximum comfort |
| Heavy work areas | Maximum anti-slip | Prevents joint fatigue |
| Walkways | High traction | Reduces stress when travelling |
| | Resilient and tough | Injury protection |
| | Fully vulcanised and sealed | Improves performance |
| | Non porous | |
| | Resistance to bacteria, mould and alkaline substances | |
| Thickness | Dimensions | Product Code |
| --- | --- | --- |
| 10 mm | 2000 mm x 15 m  rolls | CDJ 1001 |
| 8 mm | 2000 mm x 12  m rolls | CDJ 1003 |