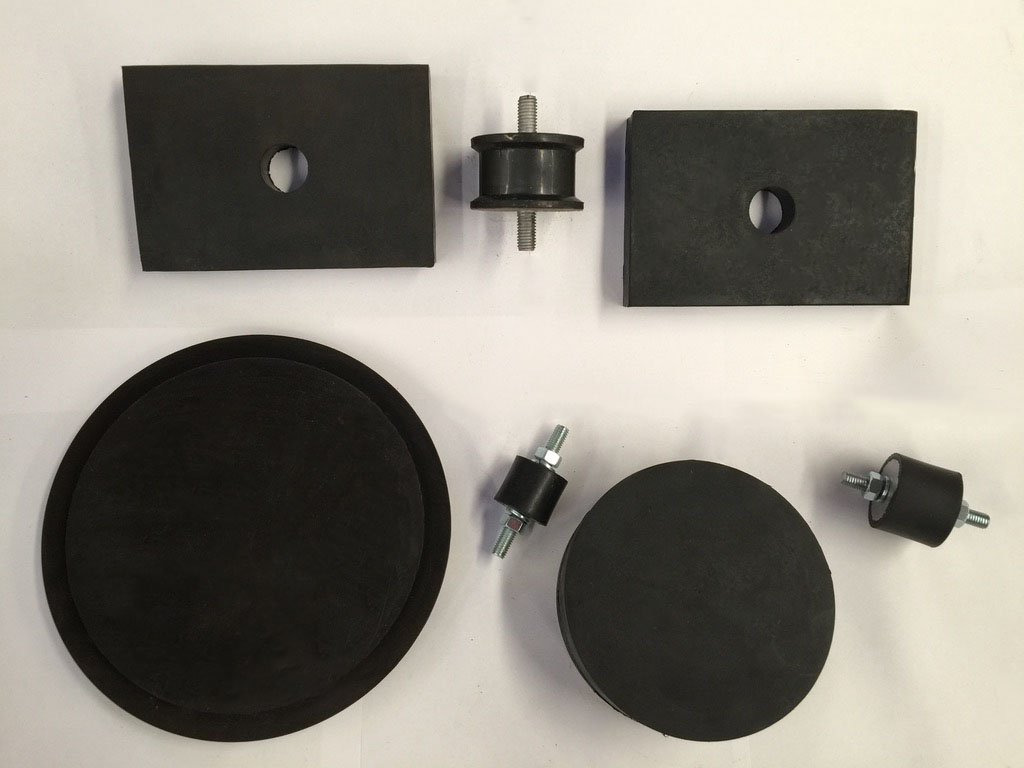 Anti Vibration Rubber Mounts (Isolators) and Pads
At CDJ Rubber products, our experienced technical team can offer you technical advice on the moulding process, from concept design to the completion of the product. Our anti vibration mounts (also known as anti vibration isolators) and pads can be created from our following range of high quality rubber: natural rubber, SBR rubber, polybutadiene rubber, neoprene rubber, nitrile rubber, EPDM rubber, silicone rubber, and fluoroelastomers. We can mould anti vibration mounts and pads to your desired  specifications, to any hardness range and specification. We also sell standard pre-made anti vibration mounts and pads for your convenience.
Our anti vibration mounts have shock protection and vibration resistant properties, and so are often used in equipment and machinery to decrease vibration and provide shock absorption. This may eliminate the necessity for the frequent replacement or repairs of machine or equipment parts, which can increase the efficiency, safety and lifespan of your equipment or machinery.
Our anti vibration pads are also used to reduce vibration, suppress noises and protect surfaces. Our anti vibration pads have several uses, such as on floors, machinery, air conditioner units, ducting, pipes, conveyors, compressors, motors, pumps and diesel generators. Our anti vibration pads can be cut to suit your specific needs, and can be glued or attached to any surface. Our anti vibration rubber products have high heat, moisture and weathering resistance, and low heat build up properties, allowing them to remain durable in harsh conditions. 
At CDJ Rubber Products, we are dedicated to providing our customers with quality products, and so we manufacture our anti vibration products using only premium quality virgin polymers, and never rubber dust, recycled rubber or rubber crumbs. As we also strive to provide our customers with excellent service, we offer highly competitive pricing on our anti vibration mounts (isolators) and pads. We also offer quick delivery times Australia wide, including delivery to the Central Coast, Newcastle, Hunter and Sydney.
Features of our anti vibration rubber mounts (isolators) and pads
Oxidation resistant

Weathering Resistant

High heat resistance

Increases lifespan of machinery

Vibration protection

Shock protection
Applications of our anti vibration rubber mounts (isolators) and pads:
Engines

Generators

Automotive industry

Marine industry

Defence industry

Energy industry