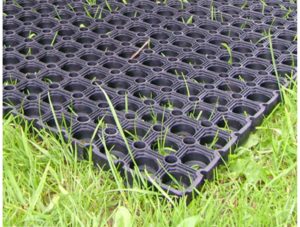 Grass mats are a great way to avoid the problem of muddy and dangerous areas by providing an anti-slip surface. Once installed, the mats are covered by grass, and so maintain a natural look. Grass mats are easy to install, and can be secured using cable ties or pegs. They are highly durable, allow for excellent drainage, are environmentally friendly, and are effective in preventing falls and injuries. They can also be used in wet or dry areas, and resist wind uplift.
These mats are UV and ozone resistant, and are specially manufactured to Australian environmental conditions. Applications for this matting may include: school playgrounds, playgrounds, pathways, muddy gateways, wet or dry areas, parks, childcare/daycare centres and flat and contoured landscapes.
DIMENSIONS: 23mm x 1000mm x 1500mm
BENEFITS                                                                                                
Reduces fatigue
Helps insulate and protect feet from cold and wet
Protects floor equipment
Prevents muddiness
Helps prevent injury due to non-slip properties
Improves health and safety in workplace
Excellent drainage, keeping surfaces dry and clean
Easy installation
Easy to clean and disinfect
Suitable for all weather conditions
Grass can be mowed once it has grown through the mats.
*CDJ Rubber are committed to quality – we use only virgin polymers, and so do not use recycled rubber, rubber dust or rubber crumbs.