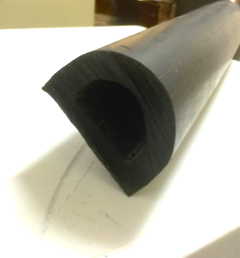 D-Section Rubber
At CDJ Rubber products, we offer our customers detailed technical advice on our d-section extrusions. Our d-section rubber can be manufactured using almost any type of rubber, including EPDM rubber, neoprene rubber, natural rubber and nitrile rubber. Our d-section rubber can be manufactured to any standard and hardness range, and can be specially manufactured to suit any personal specifications you have. For special orders of our d-sections, a minimum order quantity applies.
D-sections are most commonly used in the marine industry, but are highly versatile extrusions that can be used for a variety of applications. D-sections are often used as buffering extrusions, as they absorb impact and help to prevent damage occurring to materials they are protecting. Our d-section rubber is  resistant to UV light, ozone, weathering, dust and sea water, and so is highly suitable for outdoor applications.
Our d-sections are also resistant to bacteria, mould and alkaline substances, allowing them to withstand harsh weather and tough environmental conditions.  D-sections are commonly used as boat fenders, dock and jetty fenders, in warehouse loading bays, unloading bays, trailers, trucks, and as parking and wall protection.
At CDJ Rubber, we provide our customers with the highest quality of products, and so our d-section rubber is manufactured using only virgin polymers – never rubber dust, crumbs or recycled rubber. Our customers are important to us, so we strive to offer fast delivery times for your convenience. We deliver our d-section rubber Australia wide, including to Sydney, Newcastle, Central Coast and Hunter.
Sizing Options for D-Section Rubber:
MADE TO ORDER ONLY
| | | |
| --- | --- | --- |
| | BLACK | WHITE |
| X/SMALL | 43mm base x 26mm height | 43mm base x 26mm height |
| SMALL | 50mm base x 42mm height | 50mm base x 42mm height |
| MEDIUM | 75mm base x 65mm height |  N/A |
| LARGE | 100mm base x 105mm height | N/A |
Features of D-Section Rubber
Ozone resistant

UV resistant

Weathering Resistant

Resistant to bacteria, mould and alkaline substances

Protection against water and dust

Absorbs impact
Applications of D-Section Rubber
Boat Fender

Dock and jetty fender

Loading bays

Parking and wall protection

Trailers

Trucks