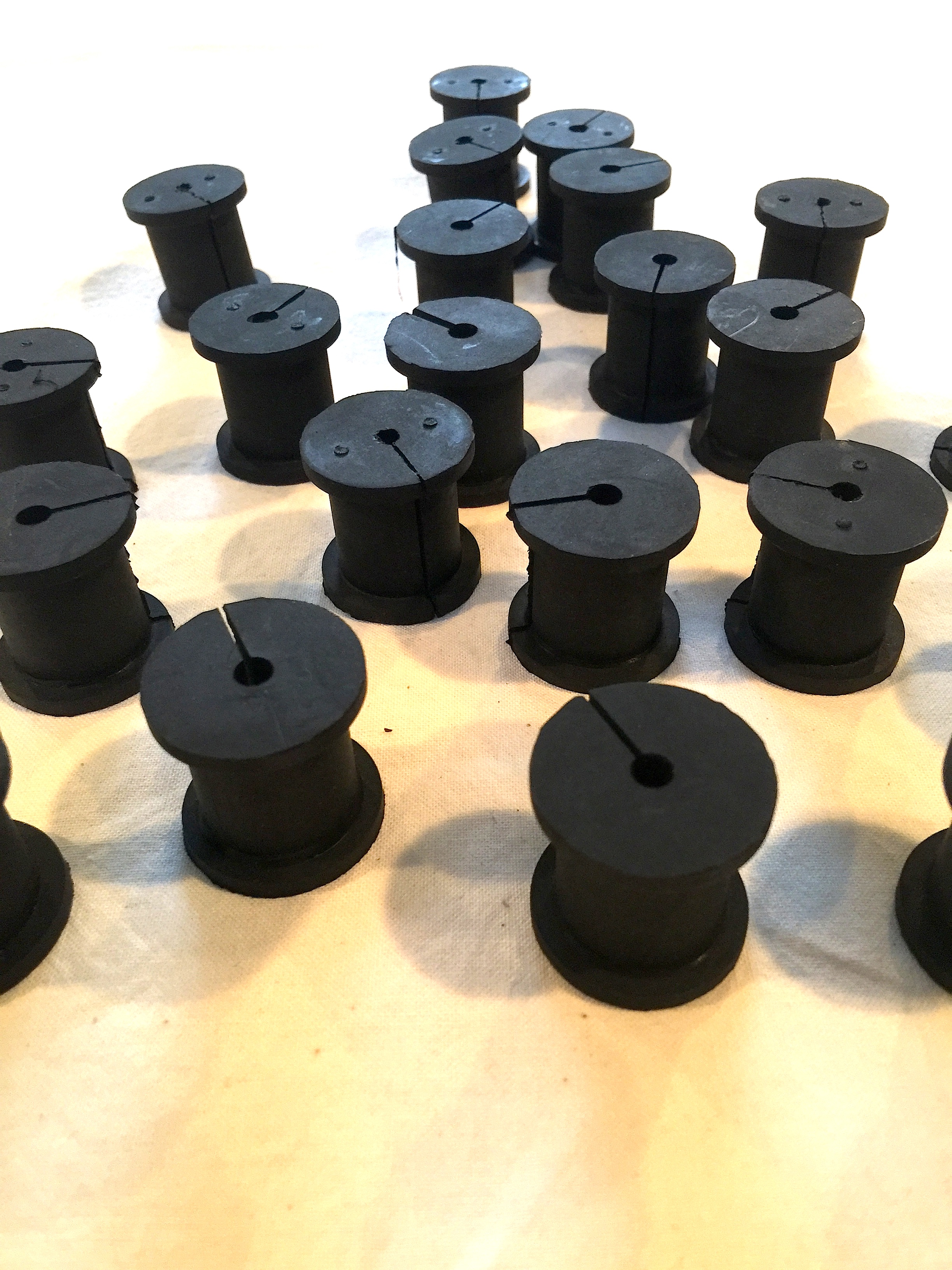 Rubber Bushings 
At CDJ Rubber, we are able to work closely with our customers throughout the moulding process. Our highly experienced technical team can provide you with advice about our rubber bushings, from concept formation through to the completion of your desired product. Our rubber bushings are specially designed with premium quality rubber compounds, and we are able to mould them to your desired specifications, and to any standard and hardness range. We can manufacture rubber bushings using premium quality natural rubber, SBR rubber, polybutadiene rubber, neoprene rubber, nitrile rubber, EPDM rubber, silicone rubber, or fluoroelastomers. We also sell standard ready-made rubber bushings for your convenience.
Our rubber bushings can be used as vibration isolators in machinery, creating a buffer between two parts of the machinery, and decreasing the level of energy that is transmitted through the bushing. Our rubber bushings help to diminish noise and vibration strength, and do not require lubrication. They additionally provide insulation, absorb shock and vibration, are resistant to abrasion, and are heat and weathering resistant, which makes them resilient and durable in harsh environments. Our rubber bushings can also be used as a seal or gasket in wiring and piping.
At CDJ Rubber, our bushings are made of excellent quality  rubber that consists only of premium virgin polymers; we never use recycled rubber, rubber dust or rubber crumbs in our products. At CDJ Rubber, we strive to provide excellent service, and so we offer competitive prices on our rubber bushings. Our moulding services take place at our factory on the Central Coast, NSW, and so we also offer fast delivery times to the Hunter region, Newcastle, Central Coast and Sydney, as well as Australia wide. 
Applications of our rubber bushings:
Aerospace industry

Healthcare industry

Construction

Transport industry

Vehicle suspension systems

Electronic equipment

Plumbing

Home use
Features of our rubber bushings:
Oxidation resistant

Weathering Resistant

High heat resistance

Protects or covers holes

Provides insulation

Can be used as a seal or gasket